A NEW WAY OF CURLING YOUR HAIR WITHOUT PUTTING HEAT IN YOUR HAIR!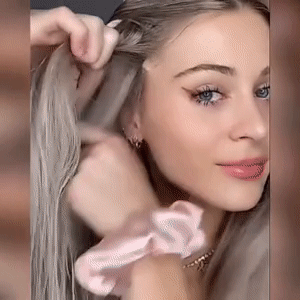 There is no need to heat the curling iron when it is used, and it will not cause any damage to the hair. Reduces heat damage and prevents tangles and mess. Help keep hair healthy and produce soft, healthy curls. The design of the curling ribbons is aimed at creating a smooth curling method. Say goodbye to breakages and split ends, say hello to healthy hair.

A comfortable and creative curling iron is also a perfect gift, suitable for relatives, friends, colleagues so that they can also have beautiful curly hair. The hair clips are long enough that they can be fixed firmly and are perfect for thick, fine, curly or straight hair. The rounded edges and smooth surface will not pull or damage your hair. The longer you use it, the better the effect, so you can use it during sleep and you will see good curling effects when you wake up.

 
BENEFITS:
QUALITY MATERIALS - The curling headband is made with pearl cotton, strong and durable, and can be reused for a long time. and it will make your hair look and feel amazing. Avoid hair breakage and damage completely. It does not affect sleep when used. The hair curler is suitable for dry, wet, long, curly, straight, fine, or thick hair, etc. You can make your own hairstyle according to your needs.
EASY TO USE - Place the curling rod on your head like a headband, you can hook it on top or secure it with a scrunchy like a ponytail, and then blow-dry or slightly damp around the other side of the curling headband and secure with a scrunchie at the bottom. Make sure to roll uptight and start near the top of your head. It can be left on for an hour or two during the day with slightly damp hair or overnight with slightly damp or dry hair.
NO HEAT & NO DAMAGE - This hair wave former rods can be used without any electricity, no heat required, you can DIY your hairstyle easily, no any damage to your hair.
CONVENIENT - Easy to use at home or take with you when you go out. Suitable for dry or wet hair. Provide you with beautiful hairstyles every day. No need to take up a lot of your time during the day.